Hello and welcome to a new series here on めっちゃめっちゃ可愛い!
I must first say that this series is entirely inspired by (and sort of dedicated) to Sara Mari of
Moments like Diamonds
. She's been one of my favourite bloggers for about 3 years now (when I first started seriously blogging), and is also a big inspiration in terms of style and also weight loss. I'm sure you all have heard of her, and if not, you should check out her blog! She hasn't update for a while, but there's always a chance she might sometime again (which I'm really hoping she does).
So what is this series? Well, it was inspired by Sara Mari's "
One 7 Ways
" series that she did for a while.
She set out to style one item seven different ways. I've chosen to do basically the same thing, except I don't have a set number of ways to style it. I'm going to try and at least do 3 styles with each piece, but you may get up to 7 styles if I'm creative enough hahaha! My closet isn't as extensive as Sara Mari's for the time being, but this is a chance for me to show you all my style, and for me to learn how to coordinate pieces better! The first few posts may be shaky, so please bear with me alright?
So onto the piece I'm styling today!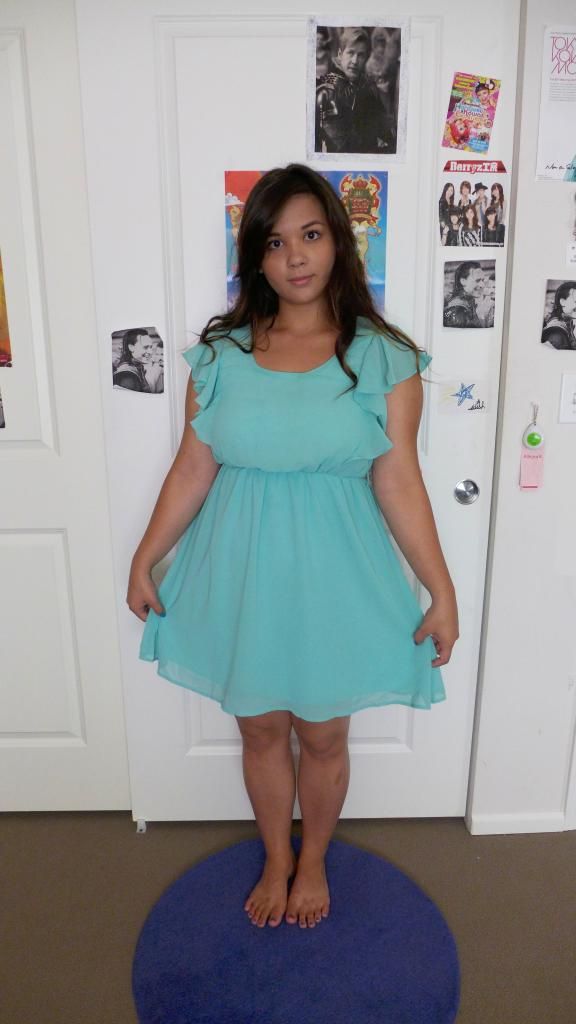 Remember this dress? I bought it at Papaya for only $14.50! What a steal!
So I'm going to style it several ways for you today :D
FIRST STYLE: Cute Date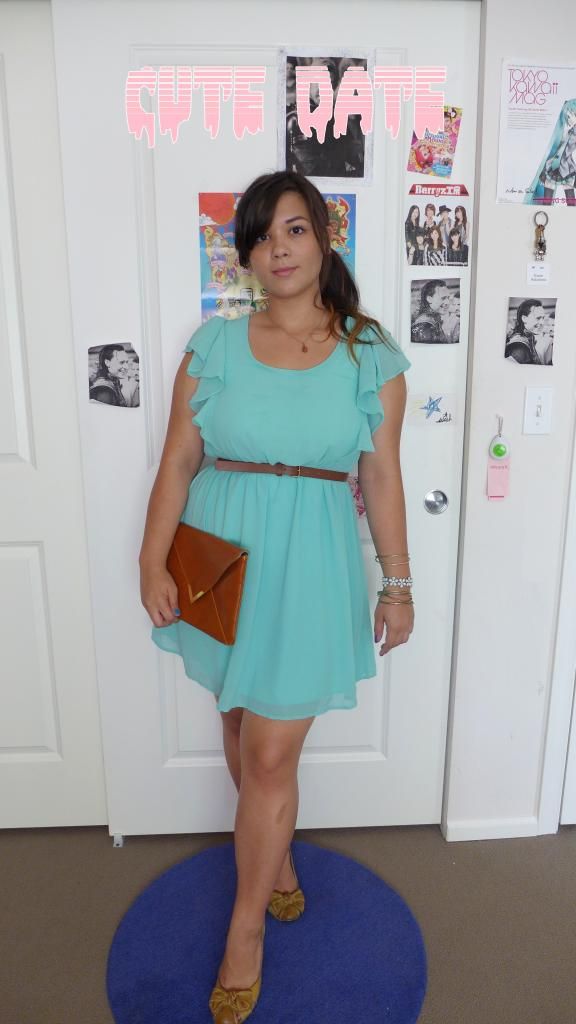 I figured this dress would be fun to wear on a date!
This dress is such a fun color already, I decided to tone it down with the neutral color of different shades of brown!
So, I styled it with a brown clutch (Free from a Nordstrom event), a skinny brown belt (Forever 21), bow-front brown high heels (Target), some gold bangles (H&M), a blue bracelet, and a brown and gold necklace (Forever 21).
Now, if it's a little chilly where you live, you can style it like this:
SECOND STYLE: Warm Cute Date!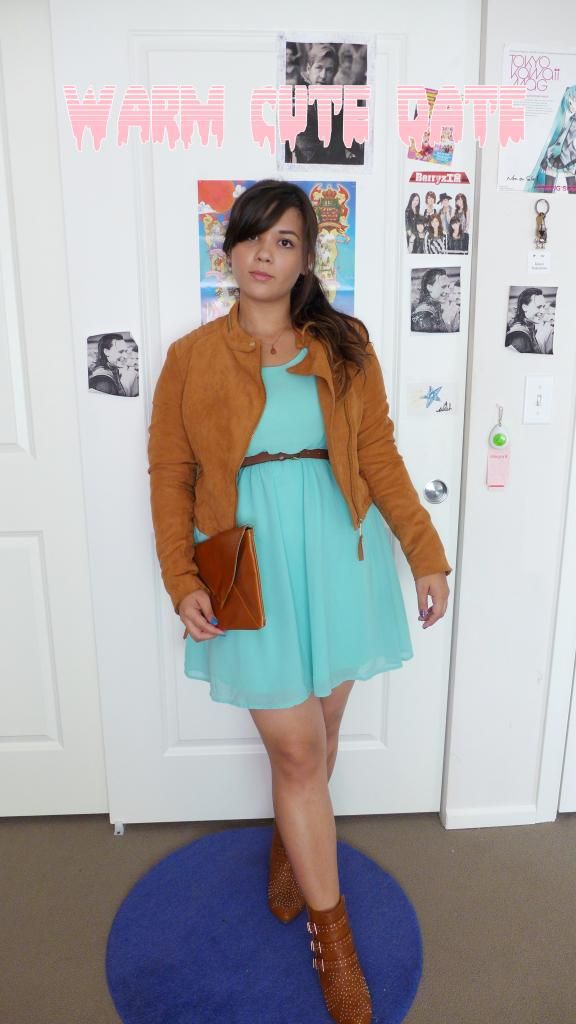 Same concept, using different shades of brown! I used a faux leather jacket (H&M), and added brown low-heeled studded boots (gojane.com). This date look is warm and cute, but now has a rocker edge thrown in!
THIRD STYLE: AIRY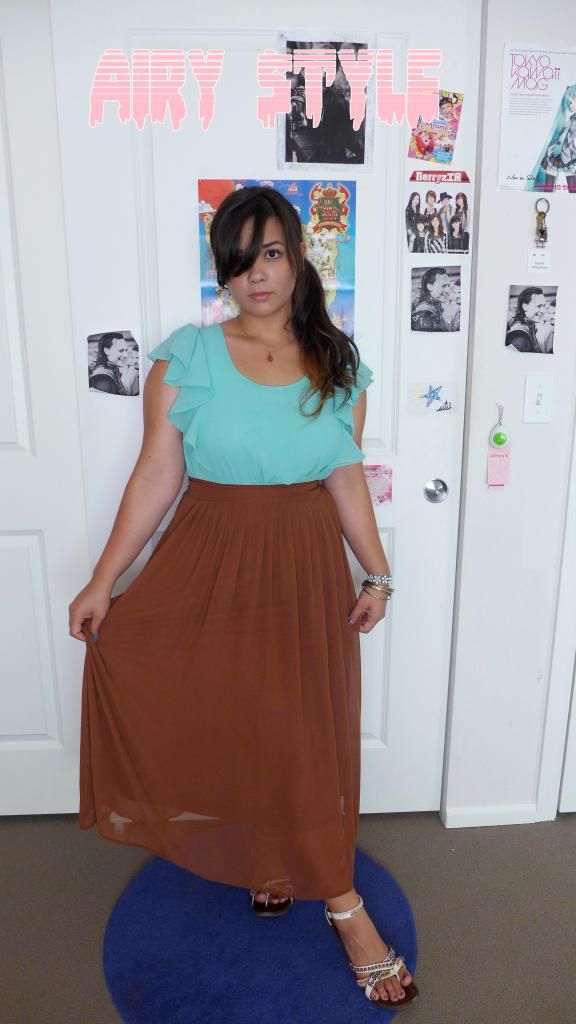 I turned this dress into a top with the help of a high-waisted brown skirt from Forever 21, beaded sandals (Steve Madden), the same bangles and necklace as the first two styles as well to make it seem as "boho" and minimal as possible. This would be nice for cooler summer days, spring days, or warmer autumn days!
FOURTH STYLE: SWEET POP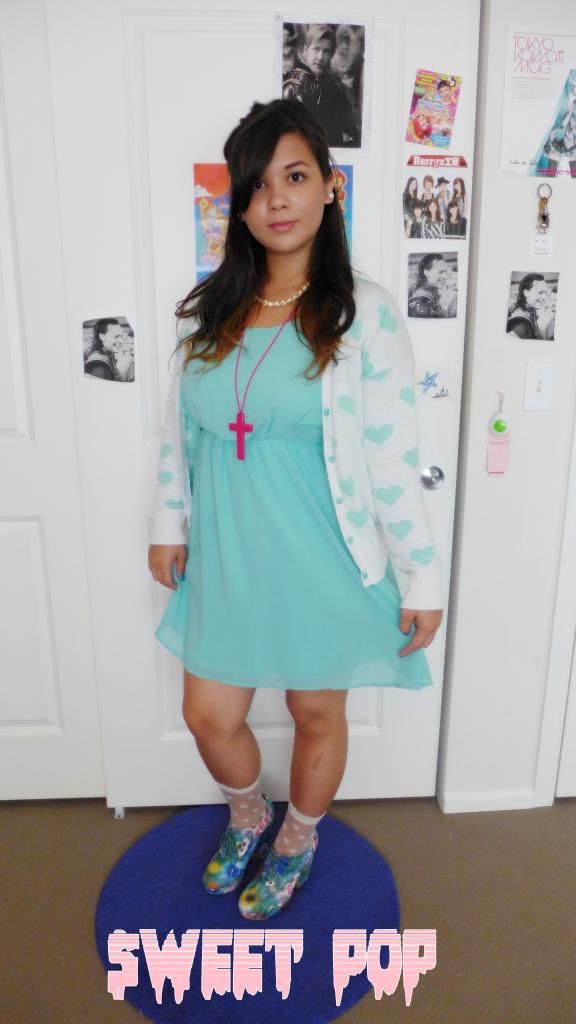 I was going for a Shibuhara style, but there aren't nearly enough accessories for that! I should have added a few pins, but alas, I did not. Consider this outfit a nearly blank canvas! Hahaha~
I was going for a sweet look, and it had pops of colors too! I added a heart cardigan (Love Culture), a hot pink cross necklace (Forever 21), a plastic beaded necklace with flowers painted on it (thrifted), see-through polka-dot socks (Forever 21), and my fave water-color wedges (urban outfitters).
But maybe sweet isn't your style?......
FIFTH STYLE: TOUGH POP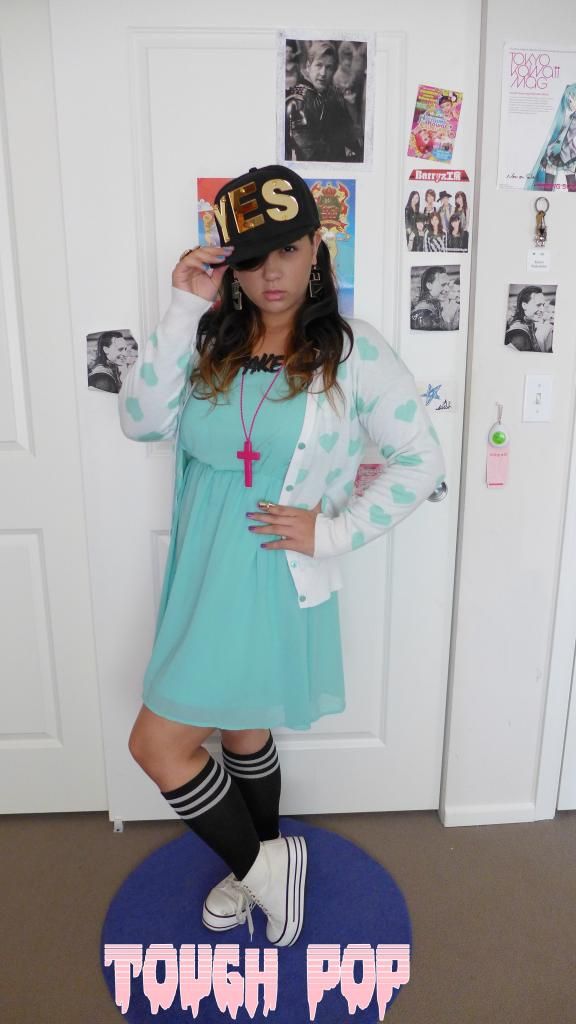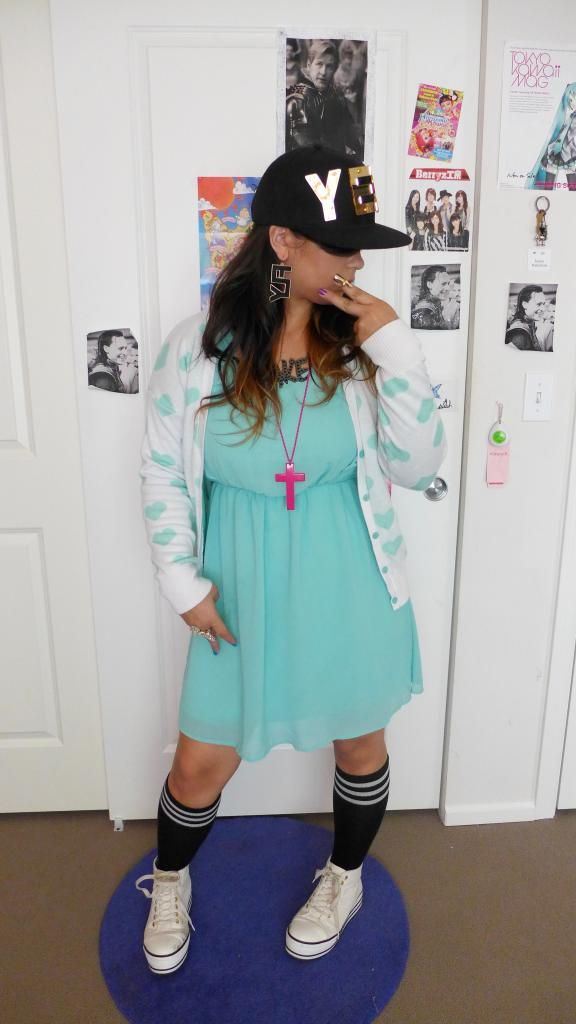 You can tell I liked this look- 2 photos! Hahaha ☆
Keep up that girly style, but make it tough and graphic! I added black socks (Forever 21), a nail ring (claire's), a bow ring (H&M), a "YES" snapback and "FLY" earrings (both from Love Culture), a "FAKE" necklace (Hot Topic), and platform sneakers (urban outfitters). I think this is something you'd see in the Shibuhara style as well ♥ Though, there isn't nearly enough accessories still! Gahhhh~
SIXTH STYLE: OFFICE LADY (OL)
Show off a little leg while looking professional at an air-conditioned office! To make this look a little more formal, but still fun, I added a white button-up (H&M), a skinny black belt with gold links (Forever 21), chunky heels (urban outfitters), and a nice gold necklace with a blue stone for accent and contrast (claire's).
I can easily see many women I know who works in offices wearing this. It still complies with most work-place dress codes, and is cute, yet still very trendy!
SEVENTH STYLE: WINTER COOL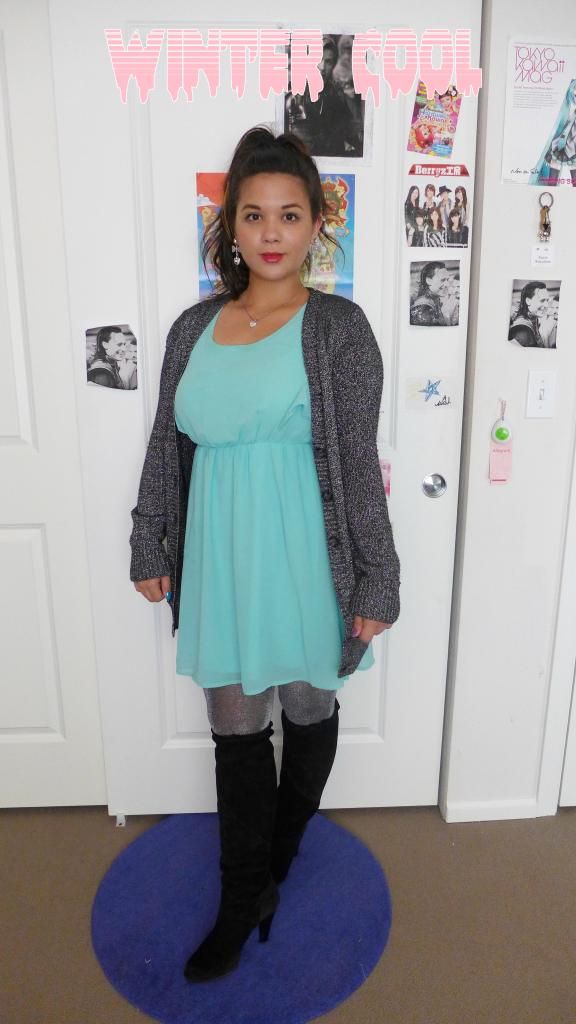 I think wearing dresses during winter is amazing! Worried about staying warm? It's okay when you add a thick silver threaded cardigan (Forever 21), silver tights (TopShop), and cool heeled leather boots (Michael Kors). For jewelry, I kept it in the silver family with a nice heart necklace (Japan), and silver bow earrings with an ear cuff on one of them (Hot Topic).
So I gave you 7 different ways on how to style this dress! I think that's appropriate since this series was inspired from One
7
Ways hahaha! I can't promise it'll be seven each time, but hopefully it'll be a good amount each time!
Thank you all for reading~ If you enjoyed it, let me know in the comments so I can continue this sort of thing for you~