A little over one year ago, my family and I went to Japan! During the time we chose to go, Halloween was happening! As you well-know, people in Japan go hard during Halloween. Just take a look at the
Halloween tag from TokyoFashion.com
and you'll see what I mean!
I only have 3 photos to share, so nothing as grand and great as the ones from TokyoFashion.com, but they're my throwback Thursday moment ♥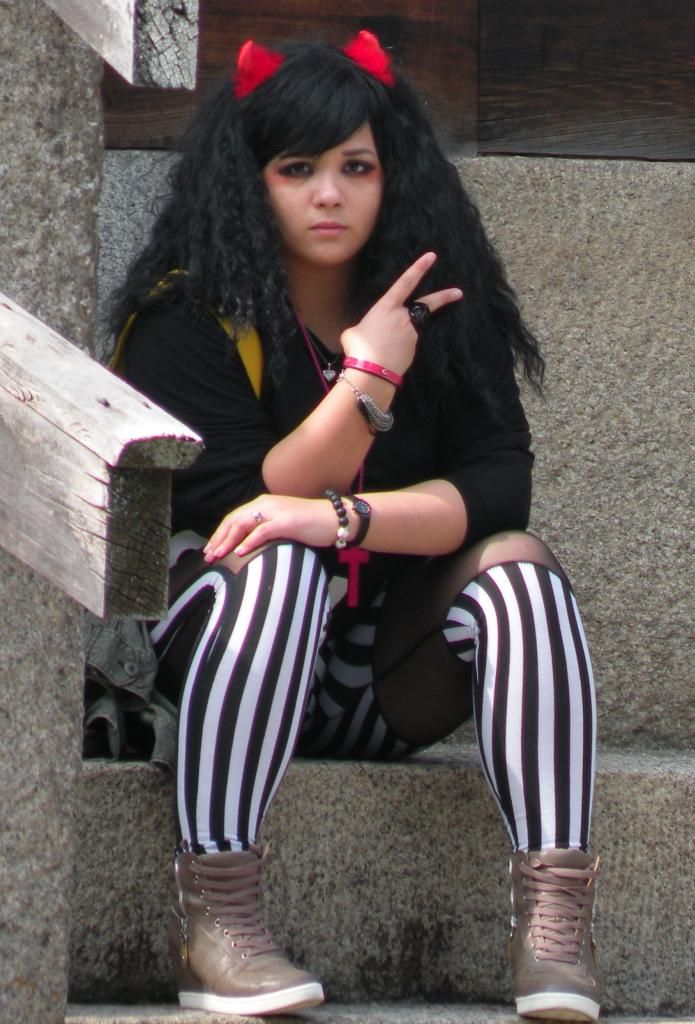 I was a demon when I was in Japan! This is on the grounds of Osaka-jo, or Osaka Castle. My face is looking kinda disgruntled because I couldn't see my dad's camera clearly hahaha.
OOTD rundown: Wig & Cardi: store in Okinawa//Leggings: Papaya//Shoes:LaGrace Mart (Shibuya 109)//Accessories: Claire's, F21//Bag: LeSportsac
There were several field trips happening, and a lot of the students (from elementary to high school levels) all looked at me weirdly hahaha. One sweet boy did say "hello" to me and my brother. We were kind of shocked to have one of the students talk to us so we were like "er... hello". I hope he didn't think badly of us for it ;A; He was super adorable, probably in 4th grade.
I saw these girls in Akihabara a week before Halloween was officially happening. They were super cute! The one in the plaid was a zombie, and the one in the white was a demon. I wanted to get a front-facing photo, but I didn't want to be creepy hahaha.
These were one of the Halloween donuts from Mister Donut that my brother and I had. They were strawberry with chocolate accents. They were super cute and yummy~ And behind them are melon sodas. Having melon soda in Japan is almost like a spiritual experience for me and my brother, because we can't find any good melon soda where we live!
Well, that was my #tbt. I want to do more of them soon~ ♥
PS: Sorry for being gone for so long. I didn't realize college would come smack me in the face. I'll make a proper post soon with updates
♥
♥
♥